SRS Industries
Design and Manufacture of
Captive Spring Loaded Screw Knob Fasteners
1.630.569.5007 www.srsindustries.com
1/4-20 Star Knob with retainer ring sleeve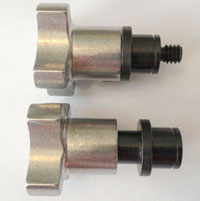 25ASSA-01E 1/20 Aluminum Star Captive Screw Knob Assembly - With Captive Retainer Collet
Knob is aluminum with steel stud & sleeve.
Material & Finish:
Knob: 6061 Polished - Stud: G-5 - Sleeve: 12L14 black oxide
These captive screw knob assemblies stay with fixture, eliminating lost fastening hardware and allowing for faster change overs and set up. They also add a high quality look and feel to the finished part. These captive fasteners consist of a spring loaded screw knob assembly and collet. These assemblies instantly install in a
single hole, or a slotted hole
, by inserting the collet through the fixture and securing with the supplied bronze bearing and retainer. When unfastened, the knob is held away from the fixture by spring tension and the screw is fully withdrawn into the collet. This provides a flush surface on the back side of the fixture, which is ideal for sliding surfaces. When fastened, the knob is pulled down over the collet for tight secure clamping. Instructions included.
Options & Part Number
Knob is steel with steel stud & sleeve. Material & Finish:
Knob: 12L14 - Stud: G-5 - Sleeve: 12L14 black oxide

Part Number
25ASSE-01E

Knob is aluminum with stainless steel stud & sleeve. Material & Finish:
Knob: 6061 Polished - Stud: 18-8/303 SS - Sleeve: 303 SS
Part Number
25ASSA-01S
Knob is stainless steel with stainless stud & sleeve. Material & Finish:
Knob: 303 SS - Stud: 18-8/303 SS - Sleeve: 303 SS

Part Number
25ASSS-01S
Data Sheet
Knob Dimensions
| | | | | | | | | |
| --- | --- | --- | --- | --- | --- | --- | --- | --- |
| Thread Size | A | B | C | D | E | F | G | H |
| 1/4-20 | 11/16 | 1 1/4 | 1 1/8 | 1 13/16 | 3/8 | - | 1/4 | 1/2 |
Panel Preparation Dimensions
| | | | | | |
| --- | --- | --- | --- | --- | --- |
| Thread Size | I | J | K | L | M |
| 1/4-20 | 3/16 | 13/16 | 33/64 | 3/16 | 3/8 |